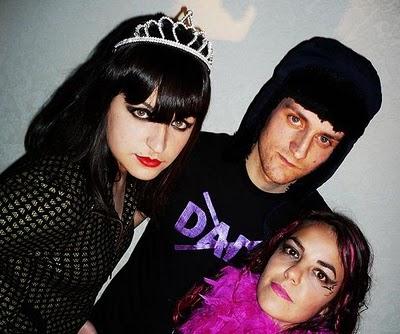 El pasado 31 de enero se editaba en formato físico el debut homónimo de
Franc3s
, aunque hace semanas que podemos descargarlo
en su Bandcamp
. En él encontramos colaboraciones de lujo, atmósferas tensas y multitud de ruidosas capas bajo las que encontramos ambiguas letras. Charlamos con el trío gallego:
1 -

En vuestro Bandcamp podemos descargarnos de forma gratuita vuestro debut. ¿Por qué habéis tomado esa determinación? ¿Ha sido decisión de vuestro sello?
Creemos que es necesaria la valoración y la interpretación de las canciones para darlas por acabadas, así que colgándolas en Internet nos aseguramos de que el dinero no sea un impedimento. No para llegar a un gran público, que no nos interesa, sino para llegar a esa gente para la cual la música es tan importante como para nosotras. Por supuesto, antes de comprarse un vinilo o un cd, no se conforman con que otro les diga que está bien o está mal, si no que necesitan escucharlo. Los Enanos Gigantes son tan anarquistas como nosotras, así que les parece estupendo.
2 -

Desde fuera, vuestras canciones se perciben como una caótica superposición de capas ruidosas. ¿Cómo las estructuráis? ¿Qué punto de referencia seguís?
La verdad es que no sabemos a ciencia cierta qué hacemos ni por qué, pero sin duda la libertad es lo más importante. Queremos inventar y encontrar nuestro propio camino, así que procuramos no seguir ningún punto de referencia ni estructura, simplemente tenemos ideas que vamos distorsionando y reduciendo hasta centrarnos en lo íntimo.
3 -

En el disco encontramos canciones como ''Me gustaría verte sangrar'' o ''El placer de la autocesárea''. También frases como "hay tres cosas que odio y la que más eres tú", "lobos comiéndose tu pecho", "yo soy la mujer que parió catorce hijos a la vez y luego apareció desangrada sobre el mantel". ¿Debemos tomaros muy en serio?
Expresar la realidad nos parece un poco estúpido, nos interesa mucho más lo que no se ve, sugerir, las imágenes… Descubrir otra realidad. Además, la carga burlona e irónica de nuestras letras suele ser bastante grande.
4 -

La penúltima canción del disco, ''Encima de miel'', es prácticamente el único remanso de paz dentro de un álbum intenso, opresivo y retorcido. ¿Está situada en ese lugar a modo de 'descanso para nuestros oídos'? ¿Por qué apenas mostráis esa cara más amable de Franc3s?
Al ser nuestro primer disco intentamos que representara nuestro tránsito desde que empezamos hasta ahora, y ''Encima de miel'' se ocupa de representar a las canciones más suaves que llevamos hechas y que, de momento, son minoría. ¿Quién sabe? A lo mejor en el futuro es al revés.
5 -

En vuestro LP de debut habéis contado con la colaboración de Rodrigo e Isa de TAB, Marina de Klaus & Kinski, Erik y Florent de Los Planetas y César Verdú de Schwartz. ¿Cómo contactasteis con ellos? ¿Resulta una ayuda para un grupo relativamente "novato" trabajar con profesionales más consagrados?
Menos con Isa y Rodrigo, que son amigos desde hace tiempo, contactamos con todos en un principio a través de Internet. Después en conciertos y a través de Mariano, nuestro manager, jefe de discográfica y sobre todo amigo. Y más que ayuda, que también, lo que resulta es un honor.
6 -

Junto a algunos de ellos versionasteis de forma más que acertada el ''Isolation'' de Joy Division. Fue durante las sesiones de grabación del disco, pero la cover finalmente no ha entrado dentro del tracklist de 'Franc3s'. ¿Por qué la descartasteis?
La única razón es porque queríamos que nuestro primer disco fuese completamente nuestro. De todas formas, va a salir como extra junto con otra canción acústica en la edición vinilo y en una especie de single que tambien contendrá remixes de Florent y Yo y Nacho Canut de dos de nuestras canciones.


7 -

El próximo 31 de marzo actuáis en Madrid junto a, precisamente, Triángulo de Amor Bizarro y Klaus & Kinski. ¿Podremos ver sobre el escenario el resultado de las colaboraciones?
Podría ser.
8 -

En mayo actuaréis en el Festival do Norte junto a bandas como The Vaselines, Sexy Sadie o Pony Bravo. ¿Tenéis previsto hacer más apariciones en otros festivales del país?
Sí, pronto colgaremos muchas más fechas.
9 -

Las comparaciones con vuestros paisanos Triángulo de Amor Bizarro son inevitables. ¿Son un referente para vosotros? ¿Qué influencias reconocéis en vuestra música?
Para nosotras, TAB son el mejor grupo de la historia de Galicia, por encima de los primeros Siniestro, Os Resentidos o Golpes Bajos, pero como te decíamos al principio, nosotras preferimos encontrar nuestro propio camino.
10 -

¿Qué suena en el iPod de Franc3s?
The Velvet Underground, The Beach Boys, Joy Division, Kraftwerk, The Smiths, The Jesus and Mary Chain, Devo, Einstürzende Neubauten, Suicide, My Bloody Valentine, Pixies, Daniel Johnston, Vainica Doble, Astrud, Aventuras de Kirlian, Health, Beach House, Los Planetas, TAB, Klaus & Kinski...
http://franc3s.blogia.com/